Monthly Archives:
February 2014
Welcome to the Ola Granola Giveaway!

Granola is one of those foods that is so versatile and loved by many. It can be a breakfast, a snack, an ingredient in a recipe and anything in between! Ola Granola offers non-GMO, gluten-free and super delicious granola in great flavors such as Vanilla Almond, Cranberry Orange Pecan, No Nut Vanilla and Chocolate Banana Chip. In addition to the larger, resealable bags, Ola Granola also comes in easy to use, single serve pouches with 100 calories per pack!
Learn more about this non-GMO and gluten-free granola when you read Krista from Gloriously Green Gal's review about how her family loved the variety of flavors, whole nuts and healthy snacks from Ola Granola!
If you would like to win an assortment of Ola Granola products, enter with the giveaway tool below. This giveaway is open to US residents, ages 18 and older. It will run from February 28, 2014 through March 14, 2014 at 11 PM CST. If you have won an Ola Granola giveaway on any blog in the last six months, you are not eligible to win. All entries will be verified. Winner will be emailed (consider adding gloriouslygreengal@gmail.com to your safe list) and will have 48 hours to respond or prize is forfeited and a new winner will be selected.
Good luck!
SeaBuck 7 is a natural supplement made in the U.S.A. for all breeds of horses, dogs, cats, cattle, and livestock. Made from the nutrient-rich Himalayan sea buckthorn berry, SeaBuck 7 is easily absorbed and has been proven in study after study to increase health, maintain an optimum weight, improve skin & coat, and even improve performance in the competitive arena. SeaBuck 7 will give them something they can feel and something you can see. Besides, pet or person, who doesn't want to be really healthy? Emilee from both Pea of Sweetness and Deals of Sweetness had a chance to review a few products from SeaBuck 7 for both her dog (an Italian Mastiff) and Maine Coon cat. She is always looking for products with natural ingredients that are good for her pets' health. Check out her review of SeaBuck 7 Pet Supplements for more! Wouldn't you like to try natural supplements with the power of sea buckthorn berries for your pets? Here is a great giveaway for you! One winner will receive the Omega 7 Oil for Dogs & Cats and a Skin Relief Stick (ARV $49.90) This giveaway begins on 2/27 at 7pm and ends on 3/13 at 11:00pm (times are Central) and is open to US and Canada ages 18+. Please refer to the full terms and conditions in the Giveaway Tools.
During the school year, it feels like we are constantly running. To school, to work, to home, to swim lessons, to dance and so on. With so much running around, I try to keep healthy gluten-free snacks on my person so we do not fall victim to vending machines full of high fructose corn syrup, food dyes and GMOs. One of our favorite quick snacks to carry is granola, but the trick is finding one that is gluten-free, non-GMO and actually tastes good. I am so excited to share about this gluten-free granola from Ola! I received an assortment of gluten-free granola packs and snack packs in exchange for my honest opinion.
Welcome to the Sustainable Style Giveaway!

When it comes to living a green, eco-friendly life, one place it is easy to get hung up on is clothing. We live in a world where manufacturers engage in processes that use harsh chemicals and release toxins into the air, water and ground – not to mention coating the very clothing we will be wearing in them. Companies like prAna pride themselves on using organic textiles, green and sustainable living manufacturing processes and eco-friendly packaging to help keep the world a better place.
Krista over at Gloriously Green Gal recently shared her thoughts on the sustainable clothing from prAna and how they add bold styles with green practices that make for a fashion-forward line that will keep the Earth healthier, longer!
If you would like to win an outfit from prAna, enter with the giveaway tool below. One US, 18+ winner will select a top, bottom and accessory of his/her choice to win (Excludes outerwear and rainwear). It will run from February 26, 2014 through March 19, 2014 at 11 PM CST. If you have won a prAna giveaway on any blog in the last six months, you are not eligible to win. All entries will be verified. Winner will be emailed (consider adding gloriouslygreengal@gmail.com to your safe list) and will have 48 hours to respond or prize is forfeited and a new winner will be selected.
Good luck!
Depending on where you are in the country, it would seem that spring and summer may never arrive. Here in Wisconsin, we are experiencing what many forecasters are lovingly referring to as "the polar vortex". With temperatures well below zero, it is hard to think about spring, but I find for my sanity, I need to do just that! In an unusual twist of events, I lost weight over this long winter and have been in need of some new spring and summer clothes, so I was excited to work with prAna because I could find new fashionable, sustainable clothing for myself, but also work with a company that believes in sustainability, giving back and green living. I received an outfit from prAna in exchange for my honest opinion.
What did I think?

I am absolutely in awe of how the prAna brand works – they use organic cotton, recycled materials and natural fibers to create beautiful and unique textiles that not only look great, but also function well, too. Their focus on using green manufacturing processes flows through from beginning to end and the end result of sustainable clothing and products is amazing, eco-friendly and something that every other clothing company should strive to achieve. Their use of bold prints mixed with more neutral tones will draw you and have you asking for more.
Are you a salsa fan? My family loves salsa of all kinds, especially Mrs. Renfro's! Mrs. Refro's is made in Fort Worth, Texas and they have a HUGE variety of delicious flavors and types. From fruity to mild and wild, Mrs. Renfro's offers salsas, relishes, sauces and even peppers.
Mrs. Renfro's was started in 1940 in the Renfro family garage. The Renfros started with packaged spices and pepper sauces that they sold in Fort Worth and the surrounding areas. Through the years, the company and its line grew and they entered the jelly, preserve, vinegar and chow chow business. There once was a time when Southerners couldn't imagine eating beans or peas without chow chow, which is a blend of cabbage, bell peppers, sugar, spices and vinegar. In the 1960's the Renfros started selling corn and tomato relish. In 1972, the Renfro family purchased recipes from a Mexican-style hot sauce maker and created a tastier salsa recipe.
Mrs. Renfro's sales gained popularity quickly, earning their reputation for amazing flavor at a reasonable price. Today, sons Jack and Bill and grandchildren Doug, Becky and James are all active in the day-to-day operations of Renfro Foods and Mrs. Renfro's continues to grow. Mrs. Renfro's products include more than 30 salsas, sauces and relishes. They are available at supermarkets, gourmet and gift shops and fruit and vegetable stands in all 50 states, Canada, the Caribbean and England!
You can find Mrs. Renfro's website HERE.
The amazing Renfros have offered one of my readers the chance to win a gift pack including their own four choices of salsas! Simply enter using the Rafflecopter below. U.S. only please. Good luck!
For many, living gluten-free means living without your favorite comfort foods such as breads and pastas. For our family, that was not an option, Sunday night lasagna is a tradition and how would we get by without that? So I started using the store-bought packaged, gluten-free noodles and many were just bad. And not just "kind of bad", but really, really bad. After awhile I found a few that were decent and even one or two that were "almost like the real thing", but never anything that satisfied the way a regular pasta would. Well, that is a problem no more! I received Gluten-Free Pasta cookbook by Robin Asbell in exchange for my honest opinion and now have the tools and tricks for pulling together incredible gluten-free pasta dishes that will amaze and delight my family and guests!


What did I think?

Prize:
Hosted by:
Welcome to The Baby Bullet Giveaway
Sponsor: NutriLiving
Hosted by: Central Bargains & Giveaways
Baby Bullet has been conceived to grow with your baby. The booklet is full of recipes even some pancakes or scrambled eggs with veggies will be a cinch to make. Just enough for baby or maybe, just enough for the whole family. I made some salsa with avocado for dinner. The tacos were delicious. It just doesn't stop there, let your imagination grow with it. Besides, Baby Bullet is awesomely cute.
"How to purée and all the assembling is easy as well as the cleaning and that's always a big bonus.."
Each Box contains:
6-date dial storage cups,

spatula,

1 short cup,

1 stay fresh resealable lid and tip proof tray,

user manual and recipe book, pocket nutritionist

Make and store baby food in batches with batch tools and the handy, dated storage system

Baby Bullet is a trademark of Homeland Housewares, LLC
I don't know about where you are, but here in Wisconsin, we have had an unusually cold and dry-air winter. Now, yes, I do live in Wisconsin, so I am "used" to the cold, but this has been significant. So much so, that for myself and my kiddos, we have had our noses dry out to the point of bleeding and coughs that are difficult to soothe. One of the best ways to cure that is to get some water into the air by the use of a humidifier. Crane, a leader in the industry of small appliances, including humidifiers, sent me their Germ Defense Cool and Warm Mist Humidifier in exchange for my honest opinion.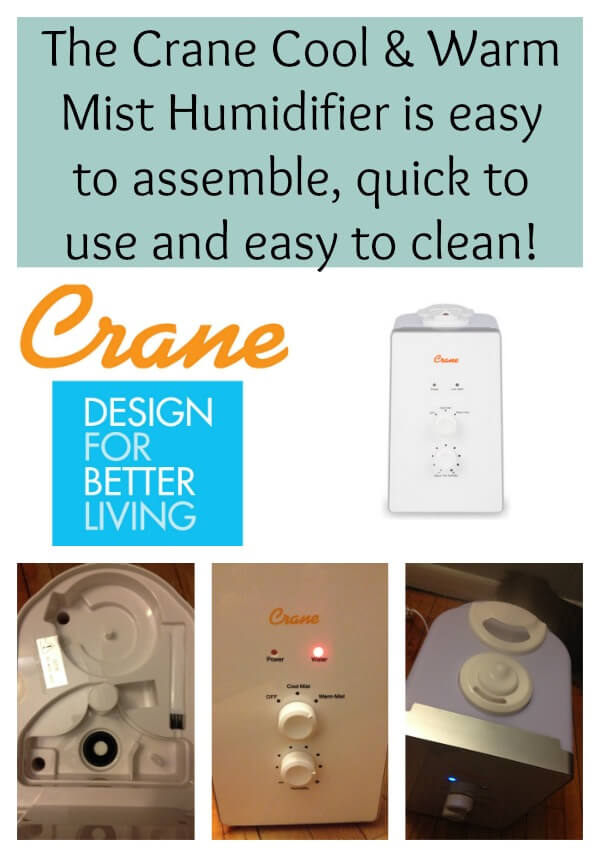 Archives