GloriouslyGreenGal
Welcome to the GlobeIn 3-month Subscription Box Giveaway!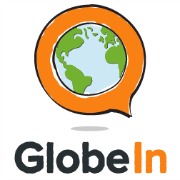 At every corner of the Earth, there are artisans of all kinds – making beautiful products for your home and for you in the form of clothing, jewelry and more. While we have become accustomed to jumping online and ordering pretty much anything we want, what about the artists that do not have access to the internet or ability to run an online shop? Often times, these wares are even more beautiful than what we have immediate access to, but just do not know it exists. GlobeIn is an online marketplace with the intent to bring those artisans to the worldwide marketplace. When you visit GlobeIn, you learn the stories of the artisans, their work and their culture. So not only do you get unique jewelry or homegoods, but you also get the unique experience of the artist. In addition to being able to purchase individual pieces for sale, you can also sign up for their monthly subscription box. Choosing between jewelry, home or home accessories, you can bring world travel to your home each month for just $29.99.
GlobeIn has graciously offered a 3-month subscription box prize to the winner of this giveaway. If you would like to win this prize, please enter with the Giveaway Tool below. This is limited to US residents only, ages 18 and older. The giveaway will run from December 30, 2013 through January 13, 2014 at 11 PM CST. Entries will be verified. Winner will be notified via email (consider adding gloriouslygreengal@gmail.com to your safe list) – winner will have 48 hours to respond and claim prize or another winner will be selected.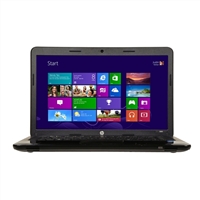 Prize:

HP 2000-2d62NR 15.6" Laptop Computer – Black Licorice

$529 plus one year insurance (total prize value $588)


Info:


Prize:

Samsung – Galaxy Tab 3 10.1 – 16GB – White Value $399 plus one year insurance (total prize value $458)


Info:
-FREE Link with announcement (Twitter or Pinterest)
I have talked a lot about how much we enjoy family game night around here and play tons of board games with our girls on a regular basis, but what about the adults? From time-to-time, hubby and I just want to play a game that is entertaining and fun in an adult way, versus animated kids-style. Hasbro has a line of great games aimed toward ages 13 and older that are great for those nights when you just want to have a good laugh with other adults! I received Hasbro's new game Funny or Die, based on the popular website of the same name, where you match hilarious captions to funny, bizarre and sometimes, just plain weird pictures, in exchange for my honest opinion.
What did I think?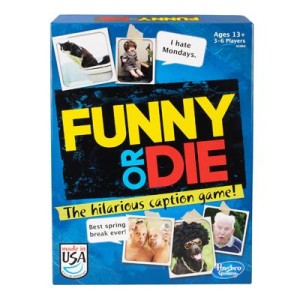 Recently the girls wanted some friends to come over to play with their new dolls, and we decided to invite the parents to come too, so that we could enjoy some time with them and a couple of glasses of wine. We decided that with the kids securely playing upstairs, that we could pull out the Funny or Die game and see what this was all about. If you are not familiar with the website, check it out and get a good chuckle. (Please note that some images include extreme stunts, mild nudity and may include things that someone may find offensive).
The game itself is easy to set up. You have two-sided cards (one side is a photo, the other side contains a caption, unrelated to the photo on the opposite side), a dice, fake money and six sets of "funny or die" voting tokens. Each player is given five cards to start, a stash of fake money and a set of voting tokens to decide each rounds fate. Each round features either three photos that you must caption, or three captions that you must supply a photo to one of three.
Prize:
Keurig
Vue
V700 Brewing System Value $149
Bonus variety box includes:
1 Barista Prima Italian Roast Coffee
1 Café Escapes Milk Chocolate Hot Cocoa
1 Celestial Seasonings® Sleepytime Herbal Tea
1 Celestial Seasonings® Southern Sweet Iced… Continue reading
Welcome to the Hasbro's Funny or Die game Giveaway!
Sponsored by: Hasbro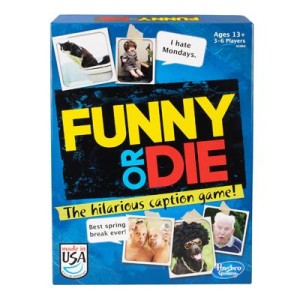 You always see a lot of talk about Family Game Nights, and Krista who writes both Gloriously Green Gal and Savory Savings is a HUGE fan from those, however, what about the nights when the adults want to play and have fun? Maybe something slightly more entertaining and thought provoking than chasing an electronic monkey to throw rings on its tail (props to Chasin' Cheeky – every time we have that game out the kids go CRAZY!). With that in mind, she was really excited to check out one of Hasbro's newest additions to their 13 and older range of games, Funny or Die, a hysterical version of the video site in game form for your gaming pleasure! Be sure to check out her full review and the fun the grownups had having an adult game night while the kiddos watched a movie about unicorns.
Would you like to win a copy of Hasbro's Funny or Die and have an adult-friendly game night of your own? Enter with the Giveaway Tool below! This giveaway is open to US residents, ages 18 and older. The giveaway will run from December 29, 2013 through January 12, 2014 at 11 PM CST. Entries will be verified. Winner will be notified via email (consider adding gloriouslygreengal@gmail.com to your safe list) – winner will have 48 hours to respond and claim prize or another winner will be selected.
When it comes to clothes, I adore the romantic-type styles like the Renaissance or Boho styles – flowy dresses and skirts, ruffles, soft fabrics, feminine and flattering lines. The trick is, finding this style of clothing in my size, that is also within my budget. HolyClothing, a family-owned clothing business, is just that! They offer handmade dresses, skirts and tops in the romantic style featuring Boho, Peasant, Renaissance and Gypsy styles that is exclusive to their company and beautifully made. I received a top from HolyClothing in exchange for my honest opinion.
What did I think?
When perusing the HolyClothing website, it is hard not to get lost in the rabbit hole of beautiful Boho and Gypsy styles! With whimsical dresses and skirts that will leave you feeling beautiful and empowered, to tops that can be dressed up or down with a simple accessory or layering change – there is so much to see! When I first came across the Renata Top, I fell in love and just kept coming back to it. This Boho Gypsy Style tunic top, features a beautiful kimono-type cross wrap, and a detailed sash to pull it together. Available in eight colors, it was hard to choose the right color! I selected the Sapphire Blue, since this shade of blue is huge this season, as well as being appropriate for the upcoming New Year's celebrations and beyond. This tunic top is made from Rayon/Viscose, leaving it soft against your skin as well as light and airy. I chose to layer mine with another jewel tone creating a fun and flirty look that is as comfortable as it is stunning. The embroidered details on the sash and sleeve add a whimsical element that I really love and makes the entire top visually appealing.
Isn't it funny how different two kiddos from the same family can be? Our girls are night and day in every way they possibly can be – from the way they look (one is blonde hair/ blue eyes and the other is brown hair/brown eyes!) to how they act. One other big difference is nighttime accidents and potty training in general. Miss Goose was super easy to daytime potty train. By time she was 18 months old, she was fully potty trained with no accidents during the day, but nighttime was another story. She would wake up soaked every morning pretty steadily up to age five. Miss LadyBug on the other hand, was a bear to daytime potty train, but has never been wet at night since she was 18 months old. Now that she is six, Miss Goose is having very few nighttime accidents, but if we are going somewhere like a hotel or a friend's house, we try to take precautions to eliminate any embarrassment for her or messes. Wearever offers a selection of incontinence products that range from washable incontinence undergarments to mattress pads, as well as an assortment of diabetic socks. We received the Mattress Pad with Wings in exchange for my honest opinion.
What did I think?
Wearever is definitely a leader in quality incontinence products. We used the Economy Mattress Pad for Miss Goose's bed when she was a bit younger and having more frequent nighttime accidents and were so pleased with how well it worked and how convenient it was to be able to wash it and use it again. The Mattress Pad with Wings is no different in quality as it also performs well! Fortunately, she has not had any nighttime accidents to test this out, however, our new kitten managed to do that for us! For some reason, her bed seemed to be a hot spot for him and he decided to mark her bed several times, fortunately we had the Wearever Mattress Pad with Wings in place and her mattress was well protected from the stinky cat urine. This mattress pad protector lays very flat and the wings ensure that the pad will stay in place without bunching or shifting. It is absorbent, washes well and discreet. I love that there is no rustling sounds when she moves around so that her friends have no clue it is on her bed, leaving her with no embarrassing stories.
Welcome to the Secret Word Page! Use this page to earn extra entries in my giveaways! Match the day to the day that you are entering and that is your secret word! Good luck!
1. Gloriously
2. Gal
3. Green… Continue reading →
I am a member of the Collective Bias® Social Fabric® Community. This shop has been compensated as part of a social shopper insights study for Collective Bias and their client.
When we found out that Miss LadyBug had a wheat allergy back in April 2013, we had to do a lot of changes to our shopping strategy and my cooking style. As time went on, we found out that not only was she wheat allergic, but also gluten-intolerant which meant any and all gluten had to be cut from our diets. We found out quickly that many of our common "kitchen essentials" were chockfull of gluten! Did you know that soy sauce has gluten?? I had no idea! While I made the major switch to gluten-free for our family meals and all of Miss LadyBug's food, I still kept things around for myself and everyone else. I mean, who really wants to chow down on gluten-free bread when you can have a chewy and delicious piece of whole grain bread? The thing is, I noticed that the weeks where I was entirely gluten-free, I was migraine-free. Yet, on the weeks where I indulged in a PB&J as a snack on some gluten-filled bread, I was down for the count with terrible headaches and migraines. I have been plagued with them since I was a teenager and just assumed that was what I could expect for the rest of my life. Migraines and medications in an endless cycle. As it turned out, my migraines were almost all contributed to my diet. Cut out gluten, and I cut out the migraines. I have been nearly migraine-free and, better yet, medication-free for nearly four months now since I cut the gluten, the trick is, finding gluten-free foods easily and quickly in the grocery store. Well, if I am honest, the other part of that trick is to keep myself honest and out of gluten-filled foods! My goal for the New Year (a resolution of sorts?) is to commit to be 100% gluten-free with no cheating!
Before going completely gluten-free, if we needed a quick meal, we would grab sandwiches or maybe make a tortilla roll-up. Since neither of these are gluten-free and the gluten-free alternatives are not quite as appetizing to me, I needed a new option. Something that I could keep the ingredients around for, or keep pre-made in the fridge for a grab-and-go meal! What I came up with was this delicious gluten-free chipotle chicken salad taco bowl. It also goes great served as a salad, as a taco or even as a gluten-free appetizer when served with a bowl of corn tortilla chips!
Archives