Good Eats
If you are like me and either are someone with a food allergy (how you foil me, shellfish!) or know someone with an allergy or sensitivity to gluten (my little Miss LadyBug!), then you will not want to miss the Gluten-Free… Continue reading →
Do you love scavenger hunts? What if it involves you getting some free goodies – including a fabulous prize of up to $300? I know that I would love that and now if you head to Walmart (check this… Continue reading →
I have told at a fairly in depth basis about my love affair with the Simply 7 quinoa, hummus and pomegranate chips. These delightful, nutrient-packed natural chips are non-GMO, gluten-free and made with simple, all-natural ingredients. I love that they use traditionally "feared" ingredients (lentils, quinoa and chickpeas?!) and make them into delicious snacks that everyone will be begging for more!
Be sure to check out my review of the hummus, lentil and pomegranate chips and then take a peek at the quinoa chip review to get the total scoop on these tasty and natural chips!
So now that we have established that Simply 7 makes some amazingly delicious natural chips, I want to tell you about their awesome ambassador program the Simply 7 Snack Squad! If you love to tell people about food (specifically yummy and natural chips), you must join the Snack Squad! As a member (it's free to join!) you will get members only coupons, fun Simply 7 swag, update about what's coming up for Simply 7, a birthday surprise and a chance to win a personalized bag of Simply 7 chips!
With hubby biking to and from work every day (nearly 15 miles roundtrip each day!), it is important that we have nutrient-packed snacks available for him to keep up his energy. The problem is, many snacks out there are empty calories and provide minimal value when it comes to things like protein or calcium. Worse than that, many easily available snacks, particularly those with any sort of dairy in them, have hormones or other unnatural ingredients. So we were excited to get some all-natural crunchy cheese snacks from Mr. Cheese O's in exchange for my honest opinion.
Tandoor Chef is proud to celebrate National Celiac Awareness Month by raising awareness through a contest; Gluten Free Go To! Recently recognized as the nation's #1 frozen Indian brand, Tandoor Chef is committed to producing restaurant quality, all… Continue reading →
So many foods out there right now are overly processed or hiding behind a guise of "natural" when they are not. So to find a snack food that really is made naturally and without the use of things like artificial colors, preservatives, flavors or GMOs, makes me happy! Simply 7 sent me their new line of quinoa chips in exchange for my honest opinion. I received the following quinoa snack flavors: Sea Salt, Barbeque, Cheddar and Sour Cream & Onion.
What did I think?
Simply 7 Quinoa chips are simply amazing! Seriously! Who knew you could get such a great tasting snack food made with such great ingredients? These quinoa chips are vegetarian, kosher, gluten-free and have no trans fat, too!
My family was excited to have a snack chip in the house that they could actually eat and in flavors you would see by the potato chip brands. Miss LadyBug was over the moon for the Barbeque flavor – this hickory smoked flavor has just a hint of sweet and is delicious all on its own – a definite win in the barbeque chip arena!
Being dairy-free while living the dairy state can be tricky at times. Ice cream and frozen custard are readily available at restaurants, grocery stores and even the gas stations – but if you are dairy-free and looking for a cold creamy treat, you have to be ready to go on a mission. It was with this in mind that made me do a little happy dance in my local grocery store when I first noticed Coconut Bliss. I received two pints of Coconut Bliss non-dairy frozen dessert in exchange for my honest opinion.
What did I think?

My girls were so excited when they found two pints of Coconut Bliss in the shopping bag one afternoon, they could hardly contain themselves! In was near torture that I made them wait until after dinner to dive into a pint of this creamy non-dairy frozen dessert, but well worth the wait! I had picked up Vanilla Island and Mint Galactica – both of which were amazing! This creamy frozen treat is made from coconut milk which results in a rich and smooth taste and texture that will keep you coming back.
Coconut Bliss non-dairy frozen desserts are made from 100% organic ingredients, dairy-free, soy-free and gluten-free (yay!) as well as Fair Trade, Vegan and Kosher Parve certified! As if all of that were not enough to make you love Coconut Bliss even more beyond the incredible flavor, they also employ sustainable practices in their manufacturing and farming.
During the school year, it feels like we are constantly running. To school, to work, to home, to swim lessons, to dance and so on. With so much running around, I try to keep healthy gluten-free snacks on my person so we do not fall victim to vending machines full of high fructose corn syrup, food dyes and GMOs. One of our favorite quick snacks to carry is granola, but the trick is finding one that is gluten-free, non-GMO and actually tastes good. I am so excited to share about this gluten-free granola from Ola! I received an assortment of gluten-free granola packs and snack packs in exchange for my honest opinion.
For many, living gluten-free means living without your favorite comfort foods such as breads and pastas. For our family, that was not an option, Sunday night lasagna is a tradition and how would we get by without that? So I started using the store-bought packaged, gluten-free noodles and many were just bad. And not just "kind of bad", but really, really bad. After awhile I found a few that were decent and even one or two that were "almost like the real thing", but never anything that satisfied the way a regular pasta would. Well, that is a problem no more! I received Gluten-Free Pasta cookbook by Robin Asbell in exchange for my honest opinion and now have the tools and tricks for pulling together incredible gluten-free pasta dishes that will amaze and delight my family and guests!


What did I think?

Disclosure: I got this product as part of an advertorial.
When I figured out that gluten was my migraine trigger and made the switch to a gluten-free diet, one of the things I missed most (aside from chewy bread!) was high quality (and delicious!) snack bars. For a couple of years now, hubby has been enjoying KIND bars as part of his biking regime and has been urging me to try them. For him, during summer when our temps can hang in the 90's with high humidity, he finds it important to load up on super grains so that he can have the stamina to get where he is going; may that be work, school, to one of our kids' events – anywhere! What I didn't realize was, KIND healthy grain bars are gluten-free! I received an assortment of the new KIND healthy grain bars in exchange for my honest opinion. It is to my uber green and health conscious hubby that I dedicate this post (and the remaining bars). Don't tell him, but with his inspiring changes, he is a bit of a superhero to me!
What did I think?

When we decided to live a greener, cleaner and leaner life a few years ago – hubby was the first to jump on board and suggested biking more! When he suggested it, I never thought it would blossom into what it has. He bikes 15 miles roundtrip each day to work and even bikes for groceries, picks up the kiddos and anywhere else we need. He really helped cut our eco-footprint WAY down as well as cutting our costs so we could focus on other areas of our lives with those funds. One of those costs being healthier diets that featured super grains, non-GMO ingredients that were also gluten-free. I never realized that KIND bars were gluten-free, but in that blindness I also missed all the other wonderful news on their labels!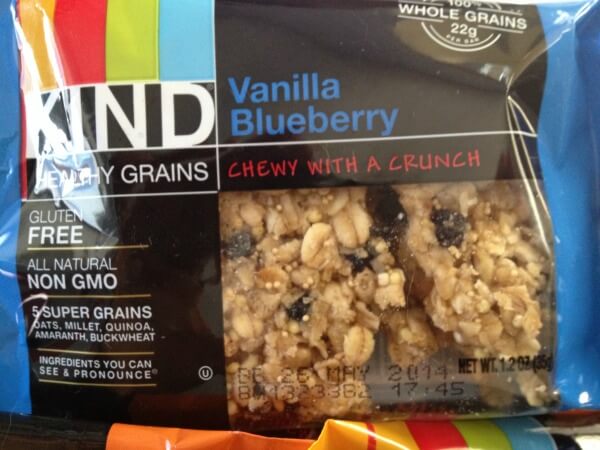 Archives