Product Reviews
Find our full listing of product reviews here – green, fashion, family-friendly, board games, movies, gluten-free and more!
When it comes to reading, my girls just cannot get enough. We have been reading chapter books to them since they were itty bitty, and now at ages four and six, we are reading Harry Potter together as a family. Our six-year-old is reading like crazy, and that makes little sister feel a bit behind, so she has been working on her reading skills so that she can be an active participant in family book nights instead of just listening. One great way to improve pre-reading and strengthen existing reading skills for younger children is through the use of sight words. Sight words are commonly seen or used words that in order to improve reading skills, it is encouraged that children memorize them at sight, instead of using reading decoding skills to figure out (sounding out, etc). The trick to learning these is exposure – hanging them in commonly seen places (like labeling your door, a door!). Rock 'n Learn brings educational DVD movies, CDs and mobile apps to reinforce learning skills for children. Their Sight Words series incorporates the Dolch sight word list with interactive and fun dance moves. I received a copy of Level 2 Sight Words in exchange for my honest opinion.
Can you already hear the Peanuts theme song playing? Perhaps you are envisioning Linus dragging his blanket, or can see Schroeder playing that classic tune? For the first time ever, Snoopy, Charlie Brown and the Peanuts gang will be on the big screen in an all-new CG animated 3D film coming November 6, 2015. I know a certain beagle-loving mom in my life will be likely camped out for this film – perhaps even early. With a Peanuts and Snoopy collection that would rival Imelda Marcos' shoe collection, my "aunt mom" will definitely be first in line to see how Snoopy and the Gang come to life via CG animation, especially after she sees these adorable screenshots!
Cutting chemicals out of your diet is a great way to lead a healthier and better life – but if you are not carrying that through your life and are still slathering your body with chemicals, all that change may be for naught. Many soaps and lotions have harsh chemicals like sulfates, detergents and other ambiguous ingredients, like "fragrance". I received an assortment of natural soaps and a natural lotion from Remwood Productss, featuring their amazing Grandma's Lye Soap line of natural soaps, herbal soaps and lotion.
What did I think?

The Grandma's line of soaps began in 2002 when Grandma started to research the best ingredients for human skin. Through her soap research came a natural soap line like no other. Featuring lye as the base and ingredients such as goat's milk, essential oils, oatmeal and other natural products – these soaps are great for your skin and can treat many ailments from poison ivy to bug bites, eczema and everything in between! They even offer soap for pets!
Many times when we have our regular board game night with friends, the kiddos will wrap up their game and then come to ask if they can play whatever the adults are playing. Unfortunately, usually the games we play are a bit too complex for their ages, but the makers of the Spy Alley games have a great alternative by offering a game with a junior version, too! I received several Spy Alley board games in exchange for my honest opinion.
What did I think?

Spy Alley makes several games in the mystery and bluffing board game genre. The flagship game, Spy Alley is all about throwing your fellow players off your trail as you try to protect your secret identity and collect clues along the way. The rules are incredibly simple making it a great game – but the competition starts early. As more pegs appear on the boards, the intensity increases and the laughter begins. We have enjoyed playing this with friends as we attempt to bluff our way through the game and realize that tricking friends and family is considerably more difficult than you would ever think!
My Miss LadyBug is particular about shows that she watches – especially since we limit television time. One show that she has consistently loved for awhile now is Peppa Pig. Shown on Nick Jr, Peppa Pig is about an adorable and energetic piggy named Peppa who lives with her family including her mummy, daddy and brother, George. With her family and her animal friends Suzy Sheep, Danny Dog and Pedro Pony, they embark on fun adventures that will keep your preschooler in stitches! We received the upcoming Peppa Pig: My Birthday Party in exchange for my honest opinion.
Peppa Pig: My Birthday Party will hit store shelves on March 18 and if you have a Peppa Pig fan in your life, this is a must buy! Featuring 14 "peppasodes" including two never-before-seen extras, this DVD is sure to please!
This new Peppa Pig DVD includes the following peppasodes:
My Birthday Party
The Playground
Fancy Dress Party
Ballet Lesson
Dens
Grandpa Pig's Boat
Daddy Puts Up a Picture
School Play
Rebecca Rabbit
Tidying Up
Grandpa's Little Train
At the Beach
Frogs, Worms and Butterflies
Cleaning the Car
Being dairy-free while living the dairy state can be tricky at times. Ice cream and frozen custard are readily available at restaurants, grocery stores and even the gas stations – but if you are dairy-free and looking for a cold creamy treat, you have to be ready to go on a mission. It was with this in mind that made me do a little happy dance in my local grocery store when I first noticed Coconut Bliss. I received two pints of Coconut Bliss non-dairy frozen dessert in exchange for my honest opinion.
What did I think?

My girls were so excited when they found two pints of Coconut Bliss in the shopping bag one afternoon, they could hardly contain themselves! In was near torture that I made them wait until after dinner to dive into a pint of this creamy non-dairy frozen dessert, but well worth the wait! I had picked up Vanilla Island and Mint Galactica – both of which were amazing! This creamy frozen treat is made from coconut milk which results in a rich and smooth taste and texture that will keep you coming back.
Coconut Bliss non-dairy frozen desserts are made from 100% organic ingredients, dairy-free, soy-free and gluten-free (yay!) as well as Fair Trade, Vegan and Kosher Parve certified! As if all of that were not enough to make you love Coconut Bliss even more beyond the incredible flavor, they also employ sustainable practices in their manufacturing and farming.
During the school year, it feels like we are constantly running. To school, to work, to home, to swim lessons, to dance and so on. With so much running around, I try to keep healthy gluten-free snacks on my person so we do not fall victim to vending machines full of high fructose corn syrup, food dyes and GMOs. One of our favorite quick snacks to carry is granola, but the trick is finding one that is gluten-free, non-GMO and actually tastes good. I am so excited to share about this gluten-free granola from Ola! I received an assortment of gluten-free granola packs and snack packs in exchange for my honest opinion.
Depending on where you are in the country, it would seem that spring and summer may never arrive. Here in Wisconsin, we are experiencing what many forecasters are lovingly referring to as "the polar vortex". With temperatures well below zero, it is hard to think about spring, but I find for my sanity, I need to do just that! In an unusual twist of events, I lost weight over this long winter and have been in need of some new spring and summer clothes, so I was excited to work with prAna because I could find new fashionable, sustainable clothing for myself, but also work with a company that believes in sustainability, giving back and green living. I received an outfit from prAna in exchange for my honest opinion.
What did I think?

I am absolutely in awe of how the prAna brand works – they use organic cotton, recycled materials and natural fibers to create beautiful and unique textiles that not only look great, but also function well, too. Their focus on using green manufacturing processes flows through from beginning to end and the end result of sustainable clothing and products is amazing, eco-friendly and something that every other clothing company should strive to achieve. Their use of bold prints mixed with more neutral tones will draw you and have you asking for more.
I don't know about where you are, but here in Wisconsin, we have had an unusually cold and dry-air winter. Now, yes, I do live in Wisconsin, so I am "used" to the cold, but this has been significant. So much so, that for myself and my kiddos, we have had our noses dry out to the point of bleeding and coughs that are difficult to soothe. One of the best ways to cure that is to get some water into the air by the use of a humidifier. Crane, a leader in the industry of small appliances, including humidifiers, sent me their Germ Defense Cool and Warm Mist Humidifier in exchange for my honest opinion.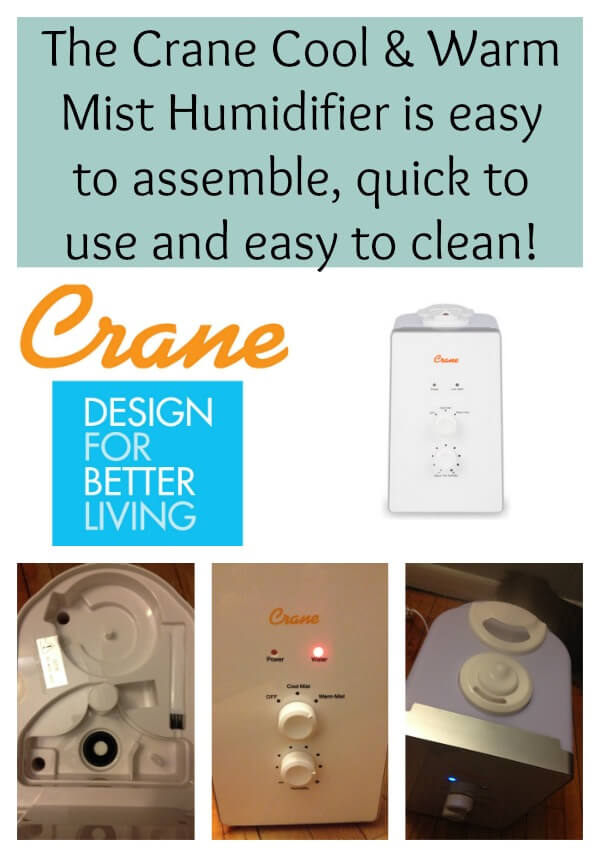 A couple of years ago, hubby got me a DSLR for my birthday. I will tell you – two years later and I am still 75% clueless on all of the things that it can do, but I still love it! My goal for 2014 includes learning how to better use my camera and to take it more places so I can get better pictures. The roadblock to that is, hauling it! Anyone who owns a DSLR knows that when you go somewhere, you end up hauling around a huge and ugly camera bag in addition to all of your other bags so that you can have your camera, your main lens, specialty lenses and so many other accessories. I have run the gauntlet of bags and have a small pile of camera bags that I have tried, used and hated. They all hold my camera – but that is about it. There is the mini-backpack style, the fanny pack style (yikes!), the "this screams I am just a camera bag" style and many others that I am sure you would recognize. While all along, all I wanted was a way to carry my camera with my day-to-day without making it an event or wrapping my expensive camera in miscellaneous items to protect it in my purse. The creator of Epiphanie Bags also had that same struggle and set out to create a line of stylish and functional camera bags! I received a camera bag in exchange for my honest opinion.
What did I think?
Archives