Product Reviews
Find our full listing of product reviews here – green, fashion, family-friendly, board games, movies, gluten-free and more!
Disclosure: I got this product as part of an advertorial.
One of my goals this year (I refuse to make a resolution for the New Year, so I pretend I am not and say "yearly goal", anywho…) is to drink… Continue reading →
Disclosure: I got this product as part of an advertorial.
This fall we were at a street carnival and one of the acts was a woman laying on a bed of nails.
For many people in the crowd, it was… Continue reading →
Disclosure: I got this product as part of an advertorial.
With both of us 30 years old now, hubby and I are more and more aware that we need to take better care of our bodies and everything inside of… Continue reading →
When it comes to be cozy and snuggly, no one knows how to do that better than Miss LadyBug, and certainly not with the amount of style that this kid can pull it off with. Most days when we walk in the door, Miss LadyBug will bee line upstairs to get herself changed from her boring "day" clothes and into something more comfortable and cozy, like sleepers. The problem she runs into is, the days we have to run somewhere else after dinner and she has to change back into regular clothes, since I do not just let her roam about in public in her pajamas anymore. This week, she received what is now her most treasured and favorite clothing item ever: a one-piece jumpsuit from OnePiece! We received a OnePiece jumpsuit in exchange for our honest opinions.
What did Miss LadyBug think?
She literally squealed outloud when I pulled the jumpsuit from OnePiece out of its packaging. Fortunately the blinds were still pulled in the kitchen where we opened it, as the kiddo was out of her clothes and into her OnePiece in a matter of moments!
As a bit of a science geek myself, I look for any opportunity to engage my girls with all things science related. Learning Resources is quickly going to become my go-to for finding educational toys that will draw in my… Continue reading →
Disclosure: I got this product as part of an advertorial.
Pretty much anytime of the year and any event in Wisconsin equals tailgate time. And tailgate time usually means beverages that arrive in glass bottles with tops that require a… Continue reading →
Long believed to have healing properties by Eastern Europeans, Baltic Amber necklaces are finally growing in popularity in America. This resin is believed to release a healing oil (succinic acid) when heated by the body's natural warmth, which is thought… Continue reading →
I have talked a lot about how much we enjoy family game night around here and play tons of board games with our girls on a regular basis, but what about the adults? From time-to-time, hubby and I just want to play a game that is entertaining and fun in an adult way, versus animated kids-style. Hasbro has a line of great games aimed toward ages 13 and older that are great for those nights when you just want to have a good laugh with other adults! I received Hasbro's new game Funny or Die, based on the popular website of the same name, where you match hilarious captions to funny, bizarre and sometimes, just plain weird pictures, in exchange for my honest opinion.
What did I think?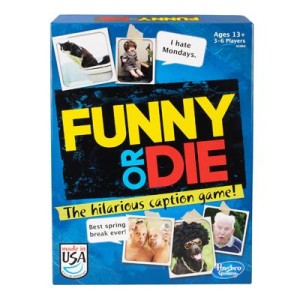 Recently the girls wanted some friends to come over to play with their new dolls, and we decided to invite the parents to come too, so that we could enjoy some time with them and a couple of glasses of wine. We decided that with the kids securely playing upstairs, that we could pull out the Funny or Die game and see what this was all about. If you are not familiar with the website, check it out and get a good chuckle. (Please note that some images include extreme stunts, mild nudity and may include things that someone may find offensive).
The game itself is easy to set up. You have two-sided cards (one side is a photo, the other side contains a caption, unrelated to the photo on the opposite side), a dice, fake money and six sets of "funny or die" voting tokens. Each player is given five cards to start, a stash of fake money and a set of voting tokens to decide each rounds fate. Each round features either three photos that you must caption, or three captions that you must supply a photo to one of three.
When it comes to clothes, I adore the romantic-type styles like the Renaissance or Boho styles – flowy dresses and skirts, ruffles, soft fabrics, feminine and flattering lines. The trick is, finding this style of clothing in my size, that is also within my budget. HolyClothing, a family-owned clothing business, is just that! They offer handmade dresses, skirts and tops in the romantic style featuring Boho, Peasant, Renaissance and Gypsy styles that is exclusive to their company and beautifully made. I received a top from HolyClothing in exchange for my honest opinion.
What did I think?
When perusing the HolyClothing website, it is hard not to get lost in the rabbit hole of beautiful Boho and Gypsy styles! With whimsical dresses and skirts that will leave you feeling beautiful and empowered, to tops that can be dressed up or down with a simple accessory or layering change – there is so much to see! When I first came across the Renata Top, I fell in love and just kept coming back to it. This Boho Gypsy Style tunic top, features a beautiful kimono-type cross wrap, and a detailed sash to pull it together. Available in eight colors, it was hard to choose the right color! I selected the Sapphire Blue, since this shade of blue is huge this season, as well as being appropriate for the upcoming New Year's celebrations and beyond. This tunic top is made from Rayon/Viscose, leaving it soft against your skin as well as light and airy. I chose to layer mine with another jewel tone creating a fun and flirty look that is as comfortable as it is stunning. The embroidered details on the sash and sleeve add a whimsical element that I really love and makes the entire top visually appealing.
Isn't it funny how different two kiddos from the same family can be? Our girls are night and day in every way they possibly can be – from the way they look (one is blonde hair/ blue eyes and the other is brown hair/brown eyes!) to how they act. One other big difference is nighttime accidents and potty training in general. Miss Goose was super easy to daytime potty train. By time she was 18 months old, she was fully potty trained with no accidents during the day, but nighttime was another story. She would wake up soaked every morning pretty steadily up to age five. Miss LadyBug on the other hand, was a bear to daytime potty train, but has never been wet at night since she was 18 months old. Now that she is six, Miss Goose is having very few nighttime accidents, but if we are going somewhere like a hotel or a friend's house, we try to take precautions to eliminate any embarrassment for her or messes. Wearever offers a selection of incontinence products that range from washable incontinence undergarments to mattress pads, as well as an assortment of diabetic socks. We received the Mattress Pad with Wings in exchange for my honest opinion.
What did I think?
Wearever is definitely a leader in quality incontinence products. We used the Economy Mattress Pad for Miss Goose's bed when she was a bit younger and having more frequent nighttime accidents and were so pleased with how well it worked and how convenient it was to be able to wash it and use it again. The Mattress Pad with Wings is no different in quality as it also performs well! Fortunately, she has not had any nighttime accidents to test this out, however, our new kitten managed to do that for us! For some reason, her bed seemed to be a hot spot for him and he decided to mark her bed several times, fortunately we had the Wearever Mattress Pad with Wings in place and her mattress was well protected from the stinky cat urine. This mattress pad protector lays very flat and the wings ensure that the pad will stay in place without bunching or shifting. It is absorbent, washes well and discreet. I love that there is no rustling sounds when she moves around so that her friends have no clue it is on her bed, leaving her with no embarrassing stories.
Archives