I have talked a lot about how much we enjoy family game night around here and play tons of board games with our girls on a regular basis, but what about the adults? From time-to-time, hubby and I just want to play a game that is entertaining and fun in an adult way, versus animated kids-style. Hasbro has a line of great games aimed toward ages 13 and older that are great for those nights when you just want to have a good laugh with other adults! I received Hasbro's new game Funny or Die, based on the popular website of the same name, where you match hilarious captions to funny, bizarre and sometimes, just plain weird pictures, in exchange for my honest opinion.
What did I think?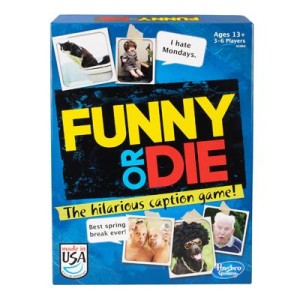 Recently the girls wanted some friends to come over to play with their new dolls, and we decided to invite the parents to come too, so that we could enjoy some time with them and a couple of glasses of wine. We decided that with the kids securely playing upstairs, that we could pull out the Funny or Die game and see what this was all about. If you are not familiar with the website, check it out and get a good chuckle. (Please note that some images include extreme stunts, mild nudity and may include things that someone may find offensive).
The game itself is easy to set up. You have two-sided cards (one side is a photo, the other side contains a caption, unrelated to the photo on the opposite side), a dice, fake money and six sets of "funny or die" voting tokens. Each player is given five cards to start, a stash of fake money and a set of voting tokens to decide each rounds fate. Each round features either three photos that you must caption, or three captions that you must supply a photo to one of three.
Welcome to the Hasbro's Funny or Die game Giveaway!
Sponsored by: Hasbro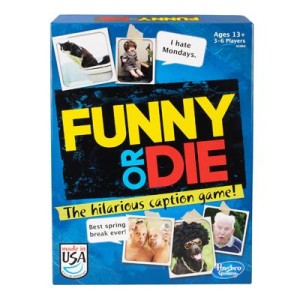 You always see a lot of talk about Family Game Nights, and Krista who writes both Gloriously Green Gal and Savory Savings is a HUGE fan from those, however, what about the nights when the adults want to play and have fun? Maybe something slightly more entertaining and thought provoking than chasing an electronic monkey to throw rings on its tail (props to Chasin' Cheeky – every time we have that game out the kids go CRAZY!). With that in mind, she was really excited to check out one of Hasbro's newest additions to their 13 and older range of games, Funny or Die, a hysterical version of the video site in game form for your gaming pleasure! Be sure to check out her full review and the fun the grownups had having an adult game night while the kiddos watched a movie about unicorns.
Would you like to win a copy of Hasbro's Funny or Die and have an adult-friendly game night of your own? Enter with the Giveaway Tool below! This giveaway is open to US residents, ages 18 and older. The giveaway will run from December 29, 2013 through January 12, 2014 at 11 PM CST. Entries will be verified. Winner will be notified via email (consider adding gloriouslygreengal@gmail.com to your safe list) – winner will have 48 hours to respond and claim prize or another winner will be selected.
When it comes to clothes, I adore the romantic-type styles like the Renaissance or Boho styles – flowy dresses and skirts, ruffles, soft fabrics, feminine and flattering lines. The trick is, finding this style of clothing in my size, that is also within my budget. HolyClothing, a family-owned clothing business, is just that! They offer handmade dresses, skirts and tops in the romantic style featuring Boho, Peasant, Renaissance and Gypsy styles that is exclusive to their company and beautifully made. I received a top from HolyClothing in exchange for my honest opinion.
What did I think?
When perusing the HolyClothing website, it is hard not to get lost in the rabbit hole of beautiful Boho and Gypsy styles! With whimsical dresses and skirts that will leave you feeling beautiful and empowered, to tops that can be dressed up or down with a simple accessory or layering change – there is so much to see! When I first came across the Renata Top, I fell in love and just kept coming back to it. This Boho Gypsy Style tunic top, features a beautiful kimono-type cross wrap, and a detailed sash to pull it together. Available in eight colors, it was hard to choose the right color! I selected the Sapphire Blue, since this shade of blue is huge this season, as well as being appropriate for the upcoming New Year's celebrations and beyond. This tunic top is made from Rayon/Viscose, leaving it soft against your skin as well as light and airy. I chose to layer mine with another jewel tone creating a fun and flirty look that is as comfortable as it is stunning. The embroidered details on the sash and sleeve add a whimsical element that I really love and makes the entire top visually appealing.
Archives