Welcome to the Hasbro's Funny or Die game Giveaway!
Sponsored by: Hasbro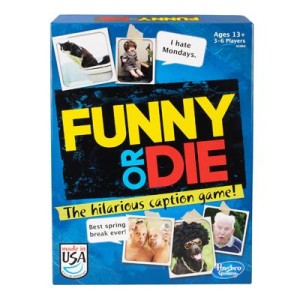 You always see a lot of talk about Family Game Nights, and Krista who writes both Gloriously Green Gal and Savory Savings is a HUGE fan from those, however, what about the nights when the adults want to play and have fun? Maybe something slightly more entertaining and thought provoking than chasing an electronic monkey to throw rings on its tail (props to Chasin' Cheeky – every time we have that game out the kids go CRAZY!). With that in mind, she was really excited to check out one of Hasbro's newest additions to their 13 and older range of games, Funny or Die, a hysterical version of the video site in game form for your gaming pleasure! Be sure to check out her full review and the fun the grownups had having an adult game night while the kiddos watched a movie about unicorns.
Would you like to win a copy of Hasbro's Funny or Die and have an adult-friendly game night of your own? Enter with the Giveaway Tool below! This giveaway is open to US residents, ages 18 and older. The giveaway will run from December 29, 2013 through January 12, 2014 at 11 PM CST. Entries will be verified. Winner will be notified via email (consider adding gloriouslygreengal@gmail.com to your safe list) – winner will have 48 hours to respond and claim prize or another winner will be selected.
When it comes to clothes, I adore the romantic-type styles like the Renaissance or Boho styles – flowy dresses and skirts, ruffles, soft fabrics, feminine and flattering lines. The trick is, finding this style of clothing in my size, that is also within my budget. HolyClothing, a family-owned clothing business, is just that! They offer handmade dresses, skirts and tops in the romantic style featuring Boho, Peasant, Renaissance and Gypsy styles that is exclusive to their company and beautifully made. I received a top from HolyClothing in exchange for my honest opinion.
What did I think?
When perusing the HolyClothing website, it is hard not to get lost in the rabbit hole of beautiful Boho and Gypsy styles! With whimsical dresses and skirts that will leave you feeling beautiful and empowered, to tops that can be dressed up or down with a simple accessory or layering change – there is so much to see! When I first came across the Renata Top, I fell in love and just kept coming back to it. This Boho Gypsy Style tunic top, features a beautiful kimono-type cross wrap, and a detailed sash to pull it together. Available in eight colors, it was hard to choose the right color! I selected the Sapphire Blue, since this shade of blue is huge this season, as well as being appropriate for the upcoming New Year's celebrations and beyond. This tunic top is made from Rayon/Viscose, leaving it soft against your skin as well as light and airy. I chose to layer mine with another jewel tone creating a fun and flirty look that is as comfortable as it is stunning. The embroidered details on the sash and sleeve add a whimsical element that I really love and makes the entire top visually appealing.
Isn't it funny how different two kiddos from the same family can be? Our girls are night and day in every way they possibly can be – from the way they look (one is blonde hair/ blue eyes and the other is brown hair/brown eyes!) to how they act. One other big difference is nighttime accidents and potty training in general. Miss Goose was super easy to daytime potty train. By time she was 18 months old, she was fully potty trained with no accidents during the day, but nighttime was another story. She would wake up soaked every morning pretty steadily up to age five. Miss LadyBug on the other hand, was a bear to daytime potty train, but has never been wet at night since she was 18 months old. Now that she is six, Miss Goose is having very few nighttime accidents, but if we are going somewhere like a hotel or a friend's house, we try to take precautions to eliminate any embarrassment for her or messes. Wearever offers a selection of incontinence products that range from washable incontinence undergarments to mattress pads, as well as an assortment of diabetic socks. We received the Mattress Pad with Wings in exchange for my honest opinion.
What did I think?
Wearever is definitely a leader in quality incontinence products. We used the Economy Mattress Pad for Miss Goose's bed when she was a bit younger and having more frequent nighttime accidents and were so pleased with how well it worked and how convenient it was to be able to wash it and use it again. The Mattress Pad with Wings is no different in quality as it also performs well! Fortunately, she has not had any nighttime accidents to test this out, however, our new kitten managed to do that for us! For some reason, her bed seemed to be a hot spot for him and he decided to mark her bed several times, fortunately we had the Wearever Mattress Pad with Wings in place and her mattress was well protected from the stinky cat urine. This mattress pad protector lays very flat and the wings ensure that the pad will stay in place without bunching or shifting. It is absorbent, washes well and discreet. I love that there is no rustling sounds when she moves around so that her friends have no clue it is on her bed, leaving her with no embarrassing stories.
Archives