Soothe Coughs & Noses with a Crane Humidifier
Disclosure of Material Connection: I received one or more of the products or services mentioned above for free in the hope that I would mention it on my blog. Regardless, I only recommend products or services I use personally and believe will be good for my readers. I am disclosing this in accordance with the Federal Trade Commission's 16 CFR, Part 255: "Guides Concerning the Use of Endorsements and Testimonials in Advertising."
I don't know about where you are, but here in Wisconsin, we have had an unusually cold and dry-air winter. Now, yes, I do live in Wisconsin, so I am "used" to the cold, but this has been significant. So much so, that for myself and my kiddos, we have had our noses dry out to the point of bleeding and coughs that are difficult to soothe. One of the best ways to cure that is to get some water into the air by the use of a humidifier. Crane, a leader in the industry of small appliances, including humidifiers, sent me their Germ Defense Cool and Warm Mist Humidifier in exchange for my honest opinion.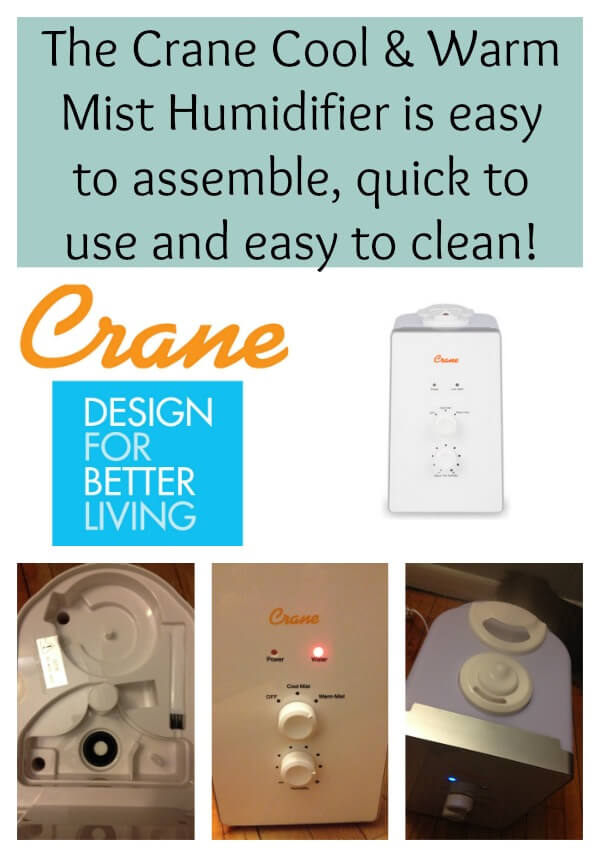 What did I think?

When I first opened the box, I was pleasantly surprised to find out how easily it goes together. No complex instructions on attaching the A part to the D part and then twisting on screws labeled C, M and P. Just take it out, fill the reservoir and you are pretty much ready to go! This is not only great for those that are directionally challenged like me, but also for someone suffering from a head cold searching for fast relief! The Crane Cool and Warm mist Humidifier has easy to use twist dials to place into the cool or warm setting. There is no rhyme or reason as to why you would choose one over the other, just more about what makes you feel better at the time. With my recent sinus infection, I found that the warm mist was very soothing. You can also toggle the level of humidity – this is important because too much humidity can lead to mold, water damage and many other things – so be sure to always ventilate the room you are using the humidifier in, as well as watching that humidity level. If you see condensation forming, make an adjustment!
The Crane Cool and Warm mist Humidifier is also great because it is easy to clean. The unit comes with a handy little brush to help in the cleaning process to eliminate any dust that make get into crevices. You also have no filter – hooray! Without having to buy one – that will save you time and money! Simply rinse your unit after use and allow to completely dry. Once a week or so, you should give it a thorough white vinegar bath, followed by a thorough rinse. Allow to dry and use a paper towel alternative to ensure there is no moisture left in the reservoir. I know that for us, one of our concerns in the past with humidifiers was blowing germs into the air, the Crane Cool and Warm Mist Humidifier is equipped with a Germ Defense antimicrobial protection inside the reservoir that ensures germ-free mist is being blown into your home!
One my favorite features about the Crane Cool and Warm mist Humidifier is that you can use the Crane Vapor Steam Liquid with it! I received a sample size bottle of the Cherry Menthol cough suppressant and I am in love with this! Miss LadyBug has had a persistent cough that the pediatrician told us was really just hanging on following her terrible cold earlier in the year and to do what we could to keep her comfortable. By setting up the Crane Cool and Warm mist Humidifier in the living room with a tablespoon of the Cherry Menthol in it, Miss LadyBug felt relief and was able to rest! I think the ability to rest let her heal the rest of the way, as her cough is gone now!
The Verdict

I am loving the Crane Cool and Warm mist Humidifier – it is super quiet (I have to set a reminder on my phone to turn it off since it is so quiet!), covers a fairly large area (up to 500 sq feet!) and is incredibly easy to use. Even my kitten is mesmerized by the Crane Cool and Warm mist Humidifier! If you want to learn more about Crane and all of the amazing home products (space heaters, rechargeable nightlights and more!), visit them on Facebook, Twitter and Pinterest.
Archives