During the school year, it feels like we are constantly running. To school, to work, to home, to swim lessons, to dance and so on. With so much runnin
During the school year, it feels like we are constantly running. To school, to work, to home, to swim lessons, to dance and so on. With so much running around, I try to keep healthy gluten-free snacks on my person so we do not fall victim to vending machines full of high fructose corn syrup, food dyes and GMOs. One of our favorite quick snacks to carry is granola, but the trick is finding one that is gluten-free, non-GMO and actually tastes good. I am so excited to share about this gluten-free granola from Ola! I received an assortment of gluten-free granola packs and snack packs in exchange for my honest opinion.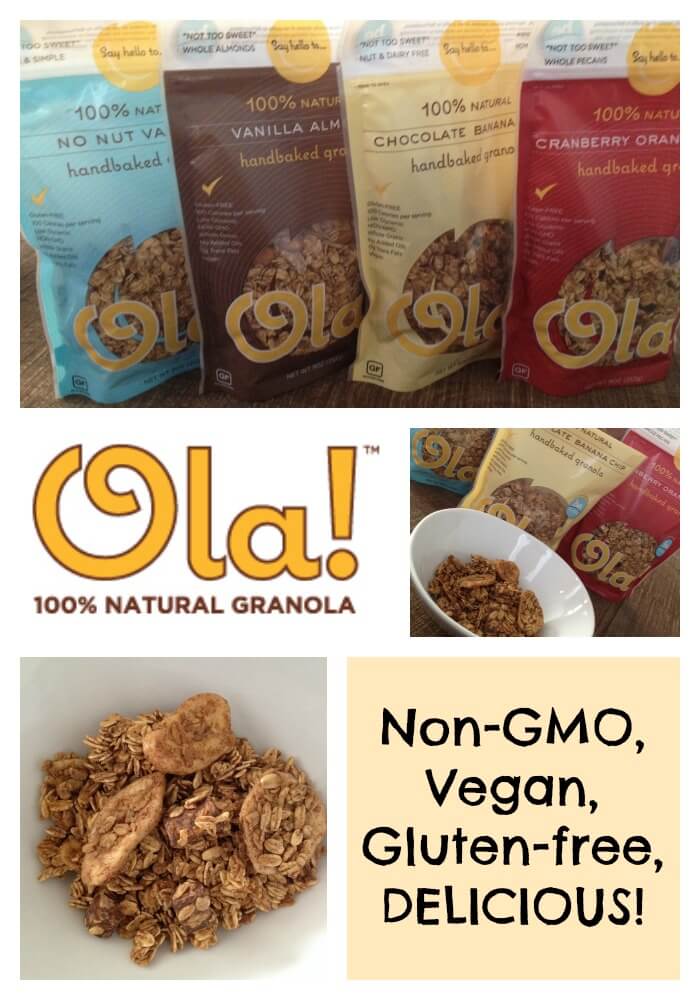 What did I think?
While I have found several gluten-free granola brands on the market, I was disappointed to find that they are using high fructose corn syrup as their sweetener or known GMO ingredients. Ola! Gluten-free granola uses pure maple syrup for a touch of sweetness that is not overpowering They are also verified non-GMO, gluten-free and vegan. In addition to that, Ola! Granola products are soy-free and made with 100% whole grains. For the flavors that have nuts, you will find whole, crunchy nuts instead of nut dust or crumbles. There are no added oils and the Ola! Brand granola is also low sugar, fat and sodium – with the snack packs coming in at just 100 calories! Right now, there are four delicious and flavorful gluten-free granola varieties offered by Ola! They are: Vanilla Almond, Cranberry Orange Pecan, No Nut Vanilla and Chocolate Banana Chip. What I love about mixes is the range of flavor.

Want something more low key? Go with the Vanilla Almond or No Nut Vanilla. These two have a classic and clean granola flavor that is perfect with a cup of almond milk or snacked on without anything else. If you are looking for a chocolate fix, I recommend my personal favorite, the newest variety, Chocolate Banana Chip. This gluten-free granola mix is AMAZING. Large pieces of banana chips, little chunks of chocolate and a lightly sweet granola mix – it is heaven! I cannot get over how much I love this as an afternoon pick-me-up or just for a quick breakfast on the go. For hubby, his flavor of choice was the Cranberry Orange Pecan. This unique sweet citrus blend features dried cranberries with an airy, but perfect orange hint and pecans that are reminiscent of the candied variety. The resealable packs are great for keeping your granola fresh and ensuring it will not spill if the bag is dropped (which happens a lot in my house!) Ola! Is also now offering convenient snack packs in the popular Vanilla Almond and No Nut Vanilla flavors. I like to throw these into my purse for quick snacks on the go and for after swim lessons for the girls.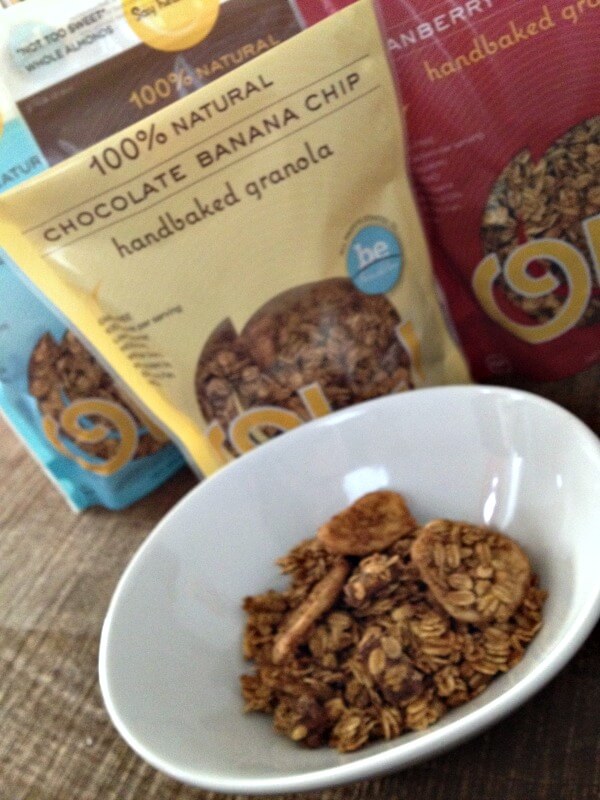 The Verdict
The gluten-free granola from Ola! Is simply perfect. Simple ingredients that are non-GMO and no other crazy additives put together in unique ways that are worth savoring! The fact that they are also low fat, low sodium and have zero trans fats is just the icing on the proverbial cake for me! Now I have a healthy snack and breakfast option that is not only tasty, but also good for me! Visit Ola! On Facebook and Twitter to learn more about where you can find them, causes they support and upcoming deals! You can find Ola! gluten-free granola in some specialty stores, or order online. Use coupon code GG2014 for FREE shipping!