A couple of years ago, hubby got me a DSLR for my birthday. I will tell you – two years later and I am still 75% clueless on all of the things that i
A couple of years ago, hubby got me a DSLR for my birthday. I will tell you – two years later and I am still 75% clueless on all of the things that it can do, but I still love it! My goal for 2014 includes learning how to better use my camera and to take it more places so I can get better pictures. The roadblock to that is, hauling it! Anyone who owns a DSLR knows that when you go somewhere, you end up hauling around a huge and ugly camera bag in addition to all of your other bags so that you can have your camera, your main lens, specialty lenses and so many other accessories. I have run the gauntlet of bags and have a small pile of camera bags that I have tried, used and hated. They all hold my camera – but that is about it. There is the mini-backpack style, the fanny pack style (yikes!), the "this screams I am just a camera bag" style and many others that I am sure you would recognize. While all along, all I wanted was a way to carry my camera with my day-to-day without making it an event or wrapping my expensive camera in miscellaneous items to protect it in my purse. The creator of Epiphanie Bags also had that same struggle and set out to create a line of stylish and functional camera bags! I received a camera bag in exchange for my honest opinion.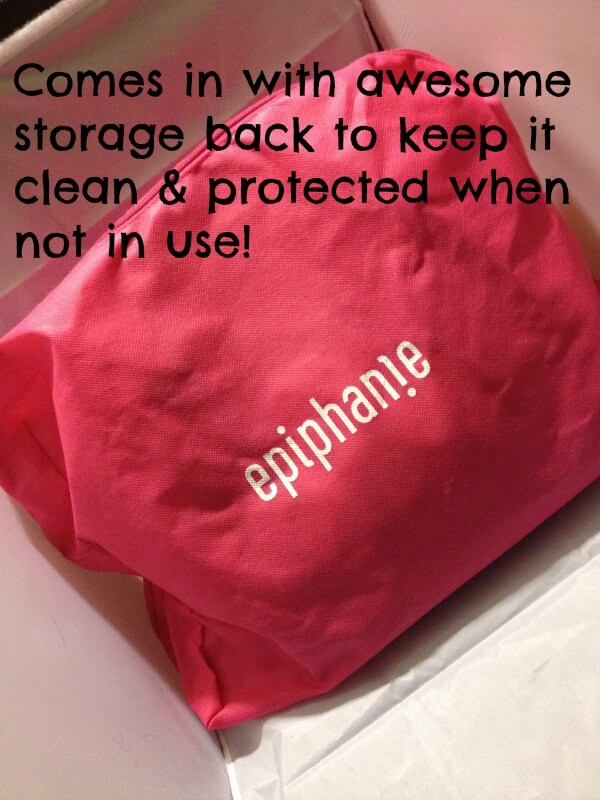 What did I think?
I selected the Lola camera bag in pink and absolutely adore it! Made from high-quality synthetic leather, this water resistant bag is both chic and completely functional as both a camera bag and an everyday purse! This stylish camera bag has six cushioned and lined Velcro panels that can easily move into any position to accommodate your gear. Check out everything I had in my Lola bag today!
Not only is it the perfect way for me to carry my DSLR with me more places, but now I do not have to lug my purse with me, too since this is pulling double duty. The outside slide pockets are perfect for slipping your phone in or anything else that you need quick access. It has two well-crafted short handles, but comes with a longer, cross-shoulder strap that is detachable. The Lola bag shifts easily from camera bag to purse with the removal of the dividers – but with as much space as you have, you probably can have it all with you, all the time!
The Verdict
I love having a camera bag that not only makes it easy to carry my camera and all of its accessories around with me, but also functions as a beautiful handbag, too. Epiphanie also offers an assortment of chic and fun camera bag charms that add just a touch of whimsy to your bag (and bling, too!). Now men, do not feel left out. Epiphanie did not forget about you! In addition to ultra stylish camera bags for woman, they offer attractive men's styles as well including a satchel style and a backpack version. Be sure to learn more about Epiphanie, their functional camera bags and upcoming specials by visiting them on Facebook, Twitter, Pinterest and Instagram!