When I figured out that gluten was my migraine trigger and made the switch to a gluten-free diet, one of the things I missed most (aside from chewy br
When I figured out that gluten was my migraine trigger and made the switch to a gluten-free diet, one of the things I missed most (aside from chewy bread!) was high quality (and delicious!) snack bars. For a couple of years now, hubby has been enjoying KIND bars as part of his biking regime and has been urging me to try them. For him, during summer when our temps can hang in the 90's with high humidity, he finds it important to load up on super grains so that he can have the stamina to get where he is going; may that be work, school, to one of our kids' events – anywhere! What I didn't realize was, KIND healthy grain bars are gluten-free! I received an assortment of the new KIND healthy grain bars in exchange for my honest opinion. It is to my uber green and health conscious hubby that I dedicate this post (and the remaining bars). Don't tell him, but with his inspiring changes, he is a bit of a superhero to me!
What did I think?
When we decided to live a greener, cleaner and leaner life a few years ago – hubby was the first to jump on board and suggested biking more! When he suggested it, I never thought it would blossom into what it has. He bikes 15 miles roundtrip each day to work and even bikes for groceries, picks up the kiddos and anywhere else we need. He really helped cut our eco-footprint WAY down as well as cutting our costs so we could focus on other areas of our lives with those funds. One of those costs being healthier diets that featured super grains, non-GMO ingredients that were also gluten-free. I never realized that KIND bars were gluten-free, but in that blindness I also missed all the other wonderful news on their labels!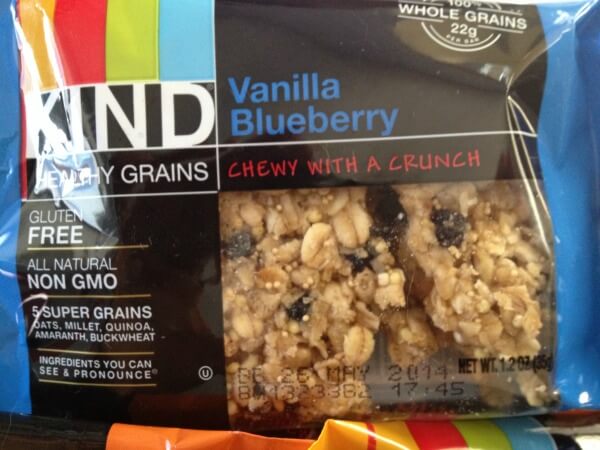 These healthy grain bars are loaded with five super grains (quinoa, oats, millet, buckwheat and amaranth) to create a gluten-free and ultra-healthy grain bar that will keep you going. The good news is, they do not just stop with making them healthy – they make them delicious, too. Many bars that I have tried in the past are hard, crunchy and taste what I imagine horse feed to taste like. That is not the case at all with KIND healthy grain bars. These bars are lightly chewy with just the slightest crunch that makes gives them a texture that will set them apart. At around 150 calories for one bar, you are not breaking the calorie bank and will feel good about this snack bar. They come in an assortment of delicious and unique flavors; my personal favorites being Vanilla Blueberry (perfect for breakfast on the go!) and Peanut Butter Dark Chocolate (great afternoon sweet-attack cure!). Hubby in all his superhero greenie status loves the Maple Pumpkin Seeds, as well as the Oats & Honey flavors – not that he doesn't gobble them all up!
The Verdict
As it turns out, hubby was on to something! He has been singing the praises of KIND bars to me for awhile – with their new introduction of the healthy grain bars, I am glad I finally listened! You can learn more about the new KIND healthy grain bars by visiting them on Facebook, Twitter and Instagram. Why don't you share with me in the comments who your personal superhero is – has someone made a change that impacted or inspired you? Or maybe you just love that your neighbor always checks your mails and waters your plants while you are gone?
I received one or more of the products mentioned above for free using Tomoson.com. Regardless, I only recommend products or services I use personally and believe will be good for my readers.