When you look at the back of a box of dryer sheets, you might be surprised to see just how many chemicals lurk in those innocuous appearing sheets –
When you look at the back of a box of dryer sheets, you might be surprised to see just how many chemicals lurk in those innocuous appearing sheets – particularly with some of those sneaky "catchall" words like "fragrance" or "scent" that mask hundreds of chemicals with one word. I hated the idea of throwing these chemical sheets into my dryer with my children's clothing knowing that they would be cloaked in these chemicals. What a catch-22 I was in though, I wanted our clothes to be soft and smell nice, but I did not want to throw chemicals in there – so for awhile, we simply had non-scented clothes that were a touch crisp. Then I came upon wool dryer balls. Wool dryer balls are a great way to help dry your clothes faster and keep them softer in place of a dryer sheet. The only thing is, they are made from natural wool and therefore, are unscented, too. I did receive a pack of wool dryer balls from ReusaWool in exchange for my honest opinion – and I am excited to share with you how they have improved my laundry process, kept chemicals out and allowed me to bring a wonderful, gentle scent back to my laundry.
What did I think?
ReusaWool dryer balls are made from 100% wool and are the most natural way to speed the drying process and soften your clothes without the use of chemicals. I am a huge fan of wool dryer balls in your laundry – you toss two to three wool dryer balls into your dryer with your wet laundry and get ready to be amazed. Your laundry will dry more quickly so you are saving time and energy! Not to mention you will be saving wear and tear on your clothes. I absolutely love this about the ReusaWool Dryer Balls – how you can save so much money, at the same time as keeping chemicals out!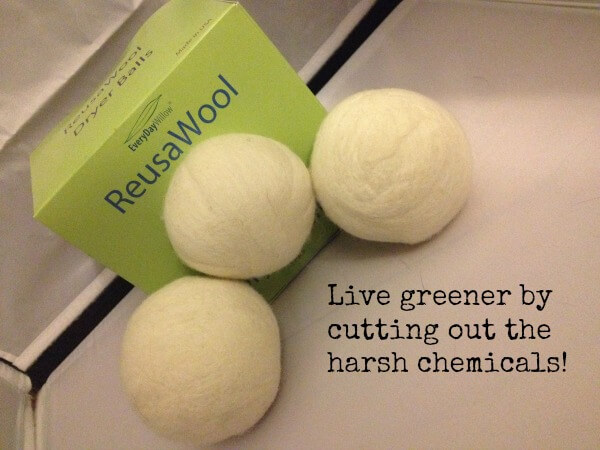 Now, on to my favorite part: bringing scent back to laundry without chemicals! What I did was super simple and you can do at home and can customize your scent to anything you want! Grab your favorite essential oils and get ready to make a blend that will make you smile. For me, I love the relaxing scent of lavender so that was what I grabbed. Sprinkle about 5-10 drops of essential oils on each wool dryer ball – now wait, do not use them yet! First put them all into a cotton sack or pillowcase and dry in the dryer on high heat for at least 30 minutes to completely dry the oil and seal in the scent. Once you have done that, you are ready to have fresh smelling laundry for months to come!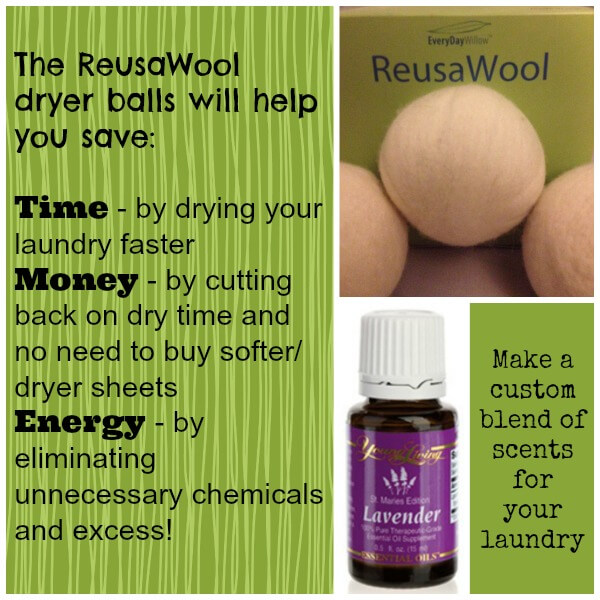 The Verdict
If you are looking for a way to reduce your energy use, cut costs and cut out the chemicals from your laundry – head over to The Willow Store and scoop up a set of ReusaWool Dryer Balls. At less than $20 for a three pack, these are some of the most affordable wool dryer balls out there. Something even more fun, you can get them in a variety of colors that are dyed with naturals dyes and will not bleed onto any of your clothes. These 9" wool dryer balls are made in the USA and are safe for your clothes – and your life! Be sure to visit them on Facebook and Twitter, too!
I received one or more of the products mentioned above for free using Tomoson.com. Regardless, I only recommend products or services I use personally and believe will be good for my readers.