While we are definitely a family that tries to eat health and watch what we eat, that by no means is indicative that we do not like treats and the suc
While we are definitely a family that tries to eat health and watch what we eat, that by no means is indicative that we do not like treats and the such. In fact, that is probably quite opposite, we are all a bunch of sweet-hounds, but with the lack of quality, organic treats available, we tend to stay away from them (and miss them terribly!) We have come to know and love the Newman's Own Organics line of products featuring amazing and delicious organic food items such as pasta sauce, olive oil, pretzels and popcorn – but did you know they also have a sweet side? Organic Newman O's, Fig Newman's and Hermits are just a very few of the delicious products from Newman's Own Organics – I received a box of organic foods from Newman's Own Organics in exchange for my honest opinion.

What did I think?
I have told you all about Newman's Own Organics before and my general love affair with their organic food line! This new box of organic foods that they sent, kept me very firmly in the team organic campground! My oldest daughter (the one who is not gluten-free) recently went to a sleepover and experienced her first chocolate sandwich cookie, she came home raving about how we needed to buy some for desserts. I looked at the packaging and could not believe all of the crazy ingredients, hydrogenated items and the whatnot, so of course, I said no to some very disappointed puppy eyes. But, that is a thing of the past! Newman's Own Organics make organic sandwich cookies in a variety of fun and delicious flavors! In fact, she was so in love with the peanut butter and chocolate flavor that she may never mention those other sandwich cookies again! Her other favorite? The Organic Fig Newmans. These delightful fig cookies come in an assortment of flavors and are soft, chewy and the perfect amount of sweet, sweet fig on the inside!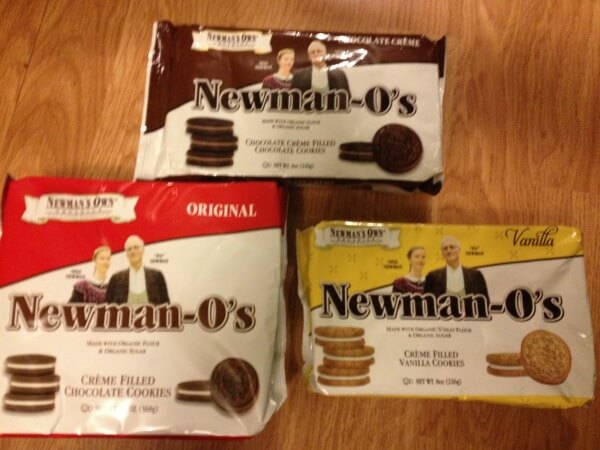 If cookies are your thing, my hubby says you must try the Hermits – or better yet, leave them all for him so he can clear the shelves at your local grocery store! These old fashioned cookies in three tasty flavors (original, ginger and cinnamon) did not last long at our house and in fact, I can only attest to their deliciousness based on how quickly hubby plowed through them!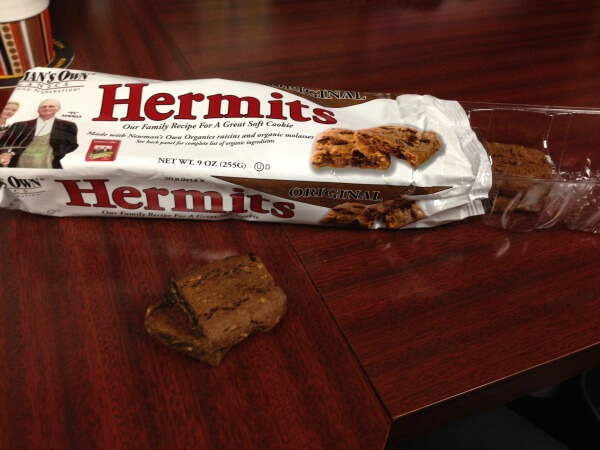 Now, while I love all the sweet and delicious things that Newman's Own Organics has to offer (have you had the sour licorice – YUM!), I am in awe of their savory things, too! The organic teas are clean tasting and make you feel good knowing there are no chemicals lurking in your beverage. The microwave popcorn has been a HUGE hit in our house for movie nights with a great tasting and well popping popcorn that everyone will love.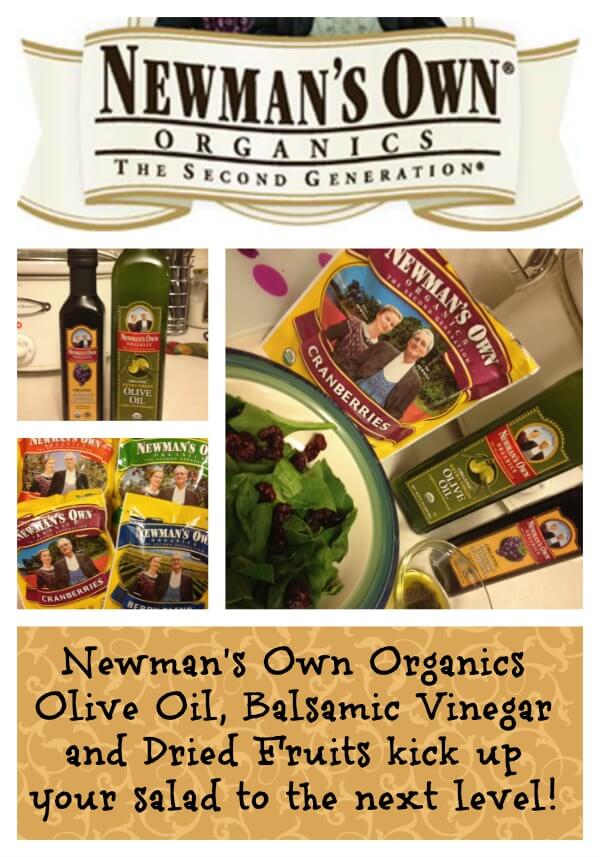 But my overall favorites of this box mix the sweet and savory: dried fruit, organic olive oil and organic balsamic vinegar. When you combine these three incredible products with a small pile of spinach, you get a delicious salad that will sing with flavor and that is filled with nutrients and antioxidants!
The Verdict
My go-to for organic food products has always been and will continue to be Newman's Own Organics. With a wide variety and growing line of organic foods, you cannot go wrong. Be sure to visit Newman's Own Organics on their website and Facebook to learn about new products, promotions and to print coupons!