With so many beauty supplements on the market, all claiming to make your life and beauty routine easier, it can be hard to decide what to start with a
With so many beauty supplements on the market, all claiming to make your life and beauty routine easier, it can be hard to decide what to start with and what companies you can trust! One of my favorite beauty supplement companies, is NeoCell. A leader in providing supplements that will help you have healthier, more beautiful skin, as well as lead as active life, NeoCell offers a variety of all-natural supplements that when used regularly, will make your beauty routine easier! I received Pomegranate extract capsules and Hyaluronic Acid Blueberry Liquid in exchange for my honest opinion.


What did I think?
As part of my daily beauty routine, I use a few different oils, creams and lotions to help keep my skin looking fresher, but often times, our beauty process should start from within. What happens in our bodies, will show on the outside and will be harder to deal with by using external products, than if we attacked the problems from the inside out.
The Pomegranate – From the Seed capsules are great capsules that contain the concentrated power of our antioxidant-rich friend, the pomegranate. Full of natural anti-inflammatory properties, I have found that using this supplement daily, my skin has less of a reddish tint to it. I am loving how I am getting a super dose of pomegranate extract which may help not only my skin, but also my heart health and my overall general health!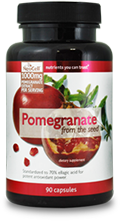 The Hyaluronic Acid Blueberry Liquid is a daily liquid supplement that has helped turned my daily health routine into part of my daily beauty routine! Each morning I make a nutrient-packed smoothie for myself and the girls to start our day off right. I am now adding a tablespoon of the NeoCell Hyaluronic Acid Blueberry Liquid to my smoothie to improve my skin and joint health! While this liquid is definitely tasty enough on its own, I like to add it to my morning smoothie so it all transitions together easily and I do not feel like I have "one more thing" on my already busy schedule – likely more of a mental thing, but hey, I'm using it daily, right?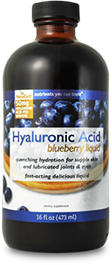 What's great about the Hyaluronic Acid Blueberry Liquid is that it helps replenish your body's natural Hyaluronic Acid (HA) supply. HA is found throughout your body, but most commonly in your eyes and joints, but as we all know, as we age, eye concerns and joint issues become more common. One of those reasons is due to our depleting supply of HA. I have been using this for about a month now and my ankle which has bothered me off and on in the mornings for a few years now has been less bothersome and more flexible. I can also tell that my skin feels more hydrated and refreshed each day, too!
The Verdict
If you are looking for ways to improve your daily health and beauty routines, I highly recommend checking out the natural supplements available from NeoCell! Their attention to quality is one that I admire and that keeps me coming back Learn more about the health supplements available from NeoCell by visiting them on Facebook, Twitter and Instagram!