I have talked a lot about how much we enjoy family game night around here and play tons of board games with our girls on a regular basis, bu

I have talked a lot about how much we enjoy family game night around here and play tons of board games with our girls on a regular basis, but what about the adults? From time-to-time, hubby and I just want to play a game that is entertaining and fun in an adult way, versus animated kids-style. Hasbro has a line of great games aimed toward ages 13 and older that are great for those nights when you just want to have a good laugh with other adults! I received Hasbro's new game Funny or Die, based on the popular website of the same name, where you match hilarious captions to funny, bizarre and sometimes, just plain weird pictures, in exchange for my honest opinion.
What did I think?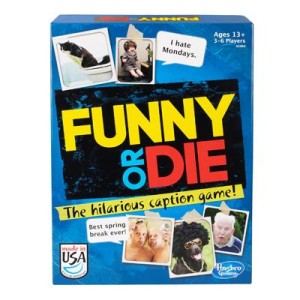 Recently the girls wanted some friends to come over to play with their new dolls, and we decided to invite the parents to come too, so that we could enjoy some time with them and a couple of glasses of wine. We decided that with the kids securely playing upstairs, that we could pull out the Funny or Die game and see what this was all about. If you are not familiar with the website, check it out and get a good chuckle. (Please note that some images include extreme stunts, mild nudity and may include things that someone may find offensive).
The game itself is easy to set up. You have two-sided cards (one side is a photo, the other side contains a caption, unrelated to the photo on the opposite side), a dice, fake money and six sets of "funny or die" voting tokens. Each player is given five cards to start, a stash of fake money and a set of voting tokens to decide each rounds fate. Each round features either three photos that you must caption, or three captions that you must supply a photo to one of three.
Hilarity quickly ensues with this game as you get odd pictures, such as this Santa holding a margarita and an assortment of captions that may or may not somehow tie back to that photo! Once everyone throws their caption or photo down, the voting begins and money awarded to the funniest photo/caption combo.
The game ends once someone runs out of "money", but for us, we just redistributed the cash and played again and again!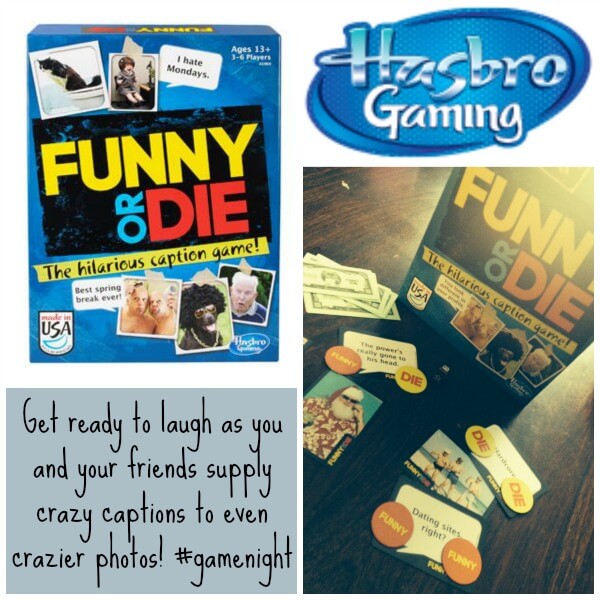 The Verdict
If you are looking for a fun way to add laughter to a game night with your friends, I recommend Hasbro's Funny or Die game. This game lets you get a good look at your friends' sense of humor, your own sense of what is funny and some of the photos send you straight to the internet to get the story behind it! Check out Hasbro's other great line of classic and modern games on their site and learn more about their game night initiatives by following them on Facebook and Twitter!